Welcome
welcome to the webstore of Wolfiecraft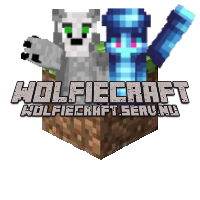 In our server you can play :
Normal Survival

Parkour ( every month a new Parkour )

Dropper ( every month a new Dropper )

Creative plot ( claim your plot and show us your building skills )

Skyblock ( with netherworld and End world )

Prison
Claim your 2 free vote keys daily for skyblock and prison. how? click on the 2 buttons below to get your vote key.

Come and take a look at our JAVA server at wolfiecraft.serv.nu .
Even Bedrock players can join our JAVA server. How? join our discord and you see how to join with bedrock.

Don't forget to join our DISCORD if you have any problems and to check out the weekly giveaways !!!
recent buyers

ScaryWolfie_YT
1x nautilus shell

redcraftender2
1x Elite

ScaryWolfie_YT
full Netherite Armor

collin12345432
5 Netherite ingots
top buyer

ScaryWolfie_YT
0.50 EUR